PAST EVENTS:
Diploma from Auriculotherapy Seminar with Dr. Raphael Nogier October 15-17, 2015. Studied advanced treatment protocols with the son of the founder (Paul Nogier) of ear acupuncture at John's Hopkins University.
Midwest Women's Herbal Conference. Studied western herbs for health and healing June 5-7, 2015.
St. Catherine Commons Annual Health and Wellness Expo, Friday, May 15, 2015
Partners In Health Acupuncture offered sample treatments to attendees.
UW-Parkside: Treated employees and retirees at annual wellness fair on October 22, 2014.
St. Catherine Commons Annual Health and Wellness Expo, Saturday, May 17, 2014
Partners In Health Acupuncture offered sample treatments to participants from 10am-2pm.
UW-Parkside:
TnT Auction a "Dynamite Fundraiser": Acupuncture treatment from Partners In Health Acupuncture The TnT auction is a way for the UW-Parkside community to share the wealth and generate scholarships for future students.
UW-Parkside: Presented information on acupuncture to employees/retirees on October 23.
Getting Green by the Lake: Sponsor of and presentation on sustainable living on July 27, 2013.
Blue Sky School of Massage: Taught "Introduction to Chinese Medicine" to massage students on Saturday, May 11, 2013.
UW-Parkside Ranger Wellness Closing Day: Treated 32 students and faculty on April 22, 2013.
St. Catherine Commons: Gave sample treatments to 30 seniors on April 13, 2013.
UW-Parkside: Ranger Wellness Kick-off Event: Gave De-stress treatments to 36 students on February 25, 2013.
Kenosha Running Club: Gave sample treatments to attendees on February 12, 2013.
UW-Parkside: Treated employees and retirees at annual wellness fair in October 2013.
Yamaha Health Fair: Gave sample acupuncture treatments to employees.
International Skeptics Day: Treated all those who don't believe acupuncture works for free!
Health Fair at St. Catherine Commons - Partners In Health offered demos of acupuncture across the street from the clinic on Saturday, April 14, 2013.
Acupuncture for Dinosaurs - Linda hit a new milestone. Reaching the half-century mark in chronological years and celebrating five years practicing acupuncture, she offered 50% off of all acupuncture treatments for five days (February 6-10 in exchange for a dinosaur). Pictures of the new Jurassic Park below.
The red blanket is actually a quilt made for me by Ellen with dinosaur images on both sides!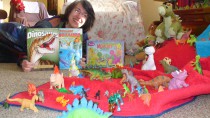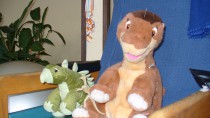 Even dinos need some acupuncture now and then.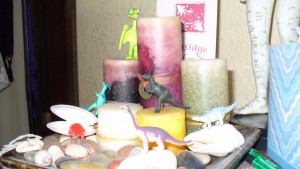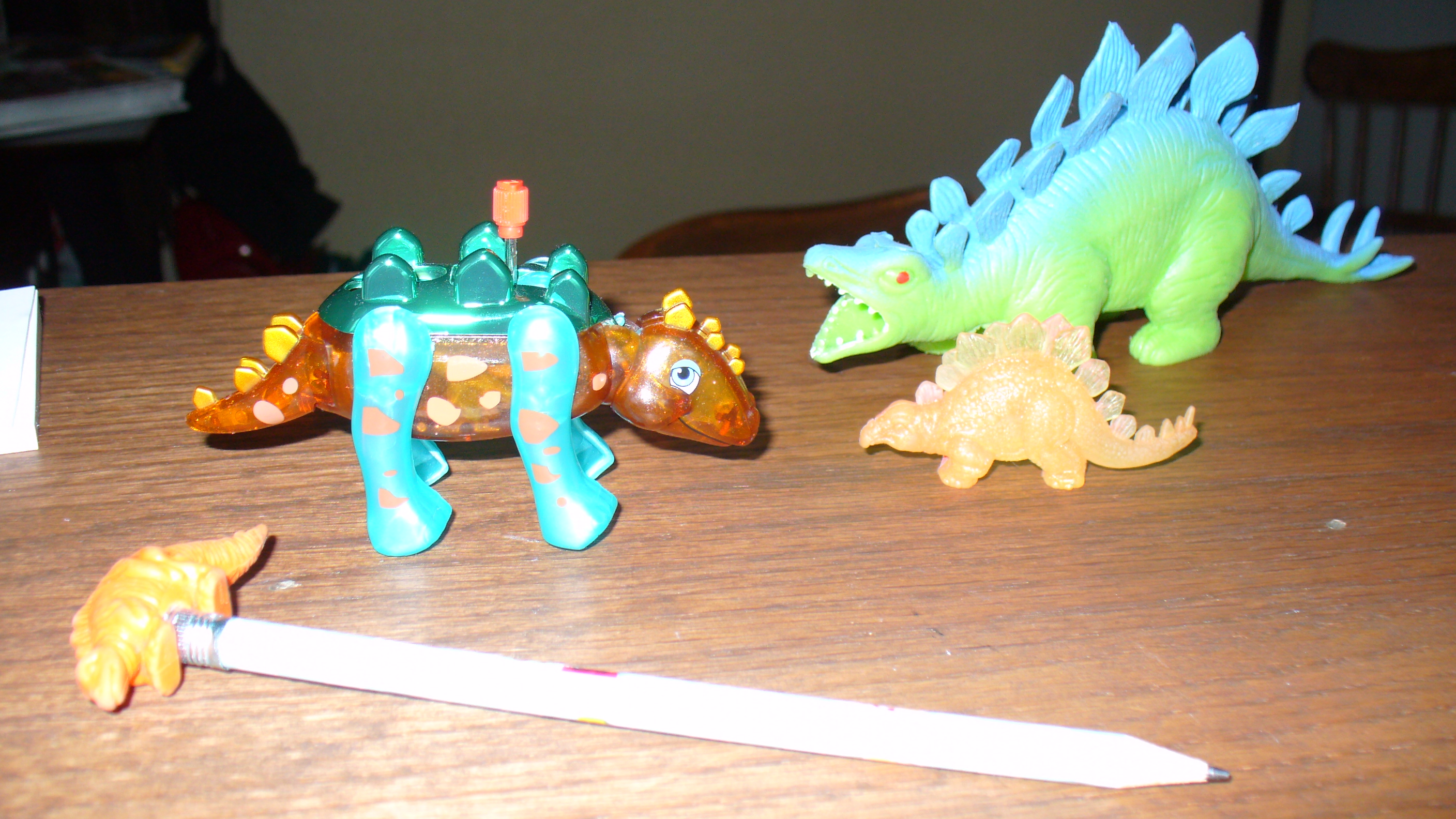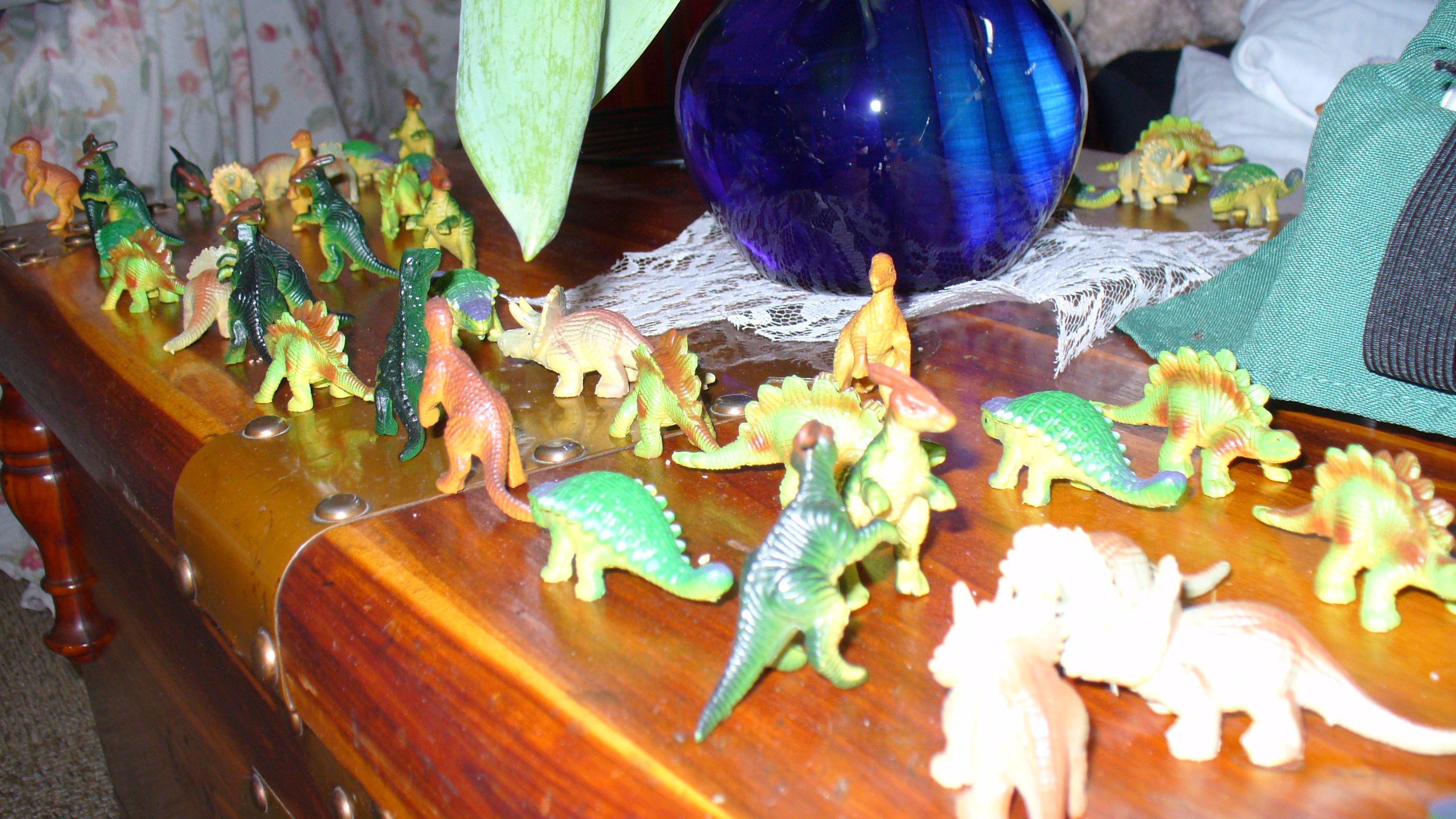 Tai Chi demonstration and talk for the American Association of University Women on January 7, 2012 at Siena Center in Racine, promoting the benefits of Tai Chi for improved health, balance, and peace of mind.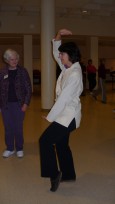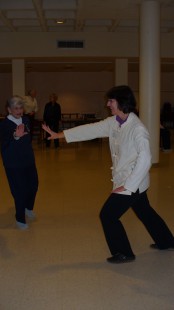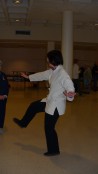 Clinic adds receptionist - Marilyn joined the increasingly busy clinic in January 2012 to help facilitate patient flow and keep me organized. Welcome!
Stroke Rehabilitation Certificate - traveled to Los Angeles in 2011 to learn the protocol from Dr. Shi Xue Min of the National Acupuncture Clinical Research Center of China for treating people who have had a stroke. His work on the award-winning theory or Xing Nao Kai Qiao has been used on over 2 million patients since 1972.
Oriental Medicine Day - Health fair on Oriental Medicine October 24, 2011 in the Atrium of the Racine Public Library, 75 Seventh St. Participants learned about acupuncture, herbs, tai chi, and bodywork. Acupuncture treatments, an herbal tea bar, and a raffle for gift certificates.
University of Wisconsin-Parkside - Presentation and sample treatments given on Wednesday, October 19, 2011 in conjunction with the Ranger Wellness Challenge.
We Celebrated Second Saturday by offering free acupuncture treatments! On Saturday, September 10, 2011 I gave free treatments for people to experience acupuncture in my clinic.
In the news: The Kenosha News published an article on the rain garden located at our clinic on Friday, August 19, 2011. The garden is open to the public as a demonstration project funded by the Root-Pike Watershed Initiative Network. It is an attempt to replenish groundwater and prevent runoff from entering Lake Michigan directly. Stop by and take a look!
Community Acupuncture Conference, Madison, WI - Participated in a panel discussion describing how the CA practice model works in my clinic.
Ruud Lighting Wellness Day - I gave over 22 treatments to employees on their lunch break June 29, 2011.
Acupuncture in the workplace. InSinkErator employees are receiving acupuncture on their break or after work. A pilot program in June and July will determine the future of onsite acupuncture. Not quite the same as being treated in the clinic, employees are already reporting improvement in their conditions from their once-weekly sessions.
The new clinic is open! I've finally found a place of my own in Kenosha. Partners In Health has a community acupuncture clinic at 3624 Sheridan Rd. (Hwy 32 at 37th St.). The new phone is 262.652.5500 or linda_stengel@hotmail.com.

Kenosha Touched Twice Free Clinic. Demonstrated acupuncture on student nurses.
Milaegers Fashion Show focuses on the whole healthy woman. I gave 17 treatments to women resulting in instant relief from pain and stress.

3rd place for "Best Acupuncturist" on WISN.com's 2010 A List
WISN's A-List: Partners In Health won 3rd Place for "Best Acupuncturist"! Over 85,000 people voted in the metro Milwaukee area. Thanks to all who voted and wrote reviews.

Ruud Lighting Wellness Day - We gave over 70 treatments to employees on their lunch break August 25, 2010.

Insinkerator Company Picnic - Free sample acupuncture treatments were given to employees at their annual picnic August 7, 2010.